President Obama this afternoon signed into law the omnibus farm bill, which includes an amendment allowing for research into hemp production in states that have authorized it.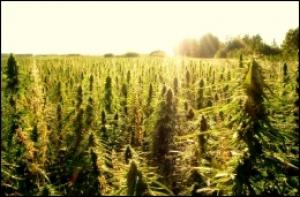 Hempsters are happy as history is made.
"With the U.S. hemp industry estimated at over $500 million in annual retail sales and growing, a change in federal law to allow colleges and universities to grow hemp for research means that we will finally begin to regain the knowledge that unfortunately has been lost over the past fifty years," says Vote Hemp President Eric Steenstra. "This is the first time in American history that industrial hemp has been legally defined by our federal government as distinct from drug varieties of Cannabis. The market opportunities for hemp are incredibly promising—ranging from textiles and health foods to home construction and even automobile manufacturing. This is not just a boon to U.S. farmers, this is a boon to U.S. manufacturing industries as well."
Washington, DC: The federal government continues to oppose allowing licensed farmers the opportunity to cultivate industrial hemp for fiber and other agricultural purposes, according to statements posted this week by Drug Czar Gil Kerlikowske on the whitehouse.gov website.
Hemp is a distinct variety of the plant species cannabis sativa that contains only minute (typically less than .03 percent) amounts of tetrahydrocannabinol (THC), the primary psychoactive compound in marijuana. According to a Congressional Research Service (CRS) report, "The United States is the only developed nation in which industrial hemp is not an established crop." Farmers in Canada and the European Union grow hemp commercially for fiber, seed, and oil for use in a variety of industrial and consumer products, including food.
Stated Kerlikowske on the White House's 'We the People' website: "Federal law prohibits human consumption, distribution, and possession of Schedule I controlled substances. ... While most of the THC in cannabis plants is concentrated in the marijuana, all parts of the plant, including hemp, can contain THC, a Schedule I controlled substance. The Administration will continue looking for innovative ways to support farmers across the country while balancing the need to protect public health and safety."
A white paper published by the North American Industrial Hemp Council counters: "The THC levels in industrial hemp are so low that no one could get high from smoking it.