Home
Is teen pot use really associated with long-lasting, adverse effects on memory and an increased risk of schizophrenia? The conventional media says so. But a closer examination of the scientific literature reveals that it is the mainstream media, not cannabis consumers, who are suffering from memory loss.
Marijuana Use and Cognition
Claims that marijuana consumption causes permanent damage to the brain and cognitive skills are hardly new. In fact, such claims have remained pervasive since the very inception of cannabis prohibition. Yet there exists little scientific data to support these persistent allegations
For example, a comprehensive review published in 2003 in the Journal of the International Neuropsychological Society assessed effects of cannabis on neurocognitive performance in nearly a dozen published studies, involving over 1,000 test subjects. Authors reported: "In conclusion, our meta-analysis of studies that have attempted to address the question of longer term neurocognitive disturbance in moderate and heavy cannabis users has failed to demonstrate a substantial, systematic, and detrimental effect of cannabis use on neuropsychological performance. It was surprising to find such few and small effects given that most of the potential biases inherent in our analyses actually increased the likelihood of finding a cannabis effect."
Washington, DC: Last Friday, Colorado Congressman Jared Polis (D) introduced HR 3483, Protecting Individual Liberties and States' Rights Act. The legislation was introduced in the wake of a federal memo to licensed gun dealers circulated nationwide last year warning them not to sell guns or ammunition to customers who legally use medical cannabis with their physician's recommendation, many of whom pay annual fees to be in state-run registries and receive state-issued identification cards.
The Federal Identification Card (FID), which allows citizens to purchase guns and ammunition from retail outlets, states that FID card holders can't, among other restrictions, use schedule I controlled substances, a legal classification created by the federal government in 1970 that cannabis was contentiously placed in.
HR 3483 seeks to remedy the discrimination of lawful, state-compliant medical cannabis patients of their inability to exercise their Second Amendment right to possess firearms for personal protection, sport and hunting.
NORML executive director Allen St. Pierre commented, "In a country where other medical patients don't lose their Second Amendment rights--even those that are prescribed potent narcotics--what reason can justify law-abiding medical patients who legally use cannabis as a therapeutic from being denied a sacredly held constitutional right?"
After last weekend's International Drug Reform Conference in Denver, a clear picture is emerging of which states are likely to be the first to follow Colorado and Washington down the path of marijuana legalization. And while some recent polls suggest the American public is getting ahead of even the leading marijuana reform honchos, well-laid plans already in place point to the possibility of a 2014 trifecta, with Oregon following Alaska to legalization through the initiative process and Rhode Island becoming the first state to legalize through the legislature.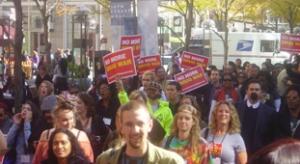 "We've been saying wait for 2016, but we seem to be changing our minds, at least a little," said Drug Policy Alliance (DPA) executive director (and key funding conduit) Ethan Nadelmann.
"I keep getting surprised," agreed Graham Boyd, counsel to Progressive Insurance founder Peter Lewis (and key funding conduit). "Activists in any number of states are saying they can win now, and we're hearing this from multiple states, and polls in multiple states are also coming in much more favorable."