Home
After last weekend's International Drug Reform Conference in Denver, a clear picture is emerging of which states are likely to be the first to follow Colorado and Washington down the path of marijuana legalization. And while some recent polls suggest the American public is getting ahead of even the leading marijuana reform honchos, well-laid plans already in place point to the possibility of a 2014 trifecta, with Oregon following Alaska to legalization through the initiative process and Rhode Island becoming the first state to legalize through the legislature.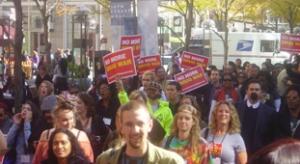 "We've been saying wait for 2016, but we seem to be changing our minds, at least a little," said Drug Policy Alliance (DPA) executive director (and key funding conduit) Ethan Nadelmann.
"I keep getting surprised," agreed Graham Boyd, counsel to Progressive Insurance founder Peter Lewis (and key funding conduit). "Activists in any number of states are saying they can win now, and we're hearing this from multiple states, and polls in multiple states are also coming in much more favorable."

"Marijuana is indeed a gateway drug," quips Sanho Tree of the Institute for Policy Studies. "It's a gateway drug to the Oval Office!" Indeed. From Bill Clinton's "I didn't inhale it" through George W. Bush's "I was young and foolish" to Barack Obama's teen years in the Choom Gang ("I inhaled frequently—that was the point"), the last three presidents have more or less owned up to breaking America's drug laws.
All of them were elected. Then re-elected.
This raises obvious questions: If Clinton, Bush and Obama, ex–pot smokers all, were deemed responsible enough to lead the world's most powerful nation, largest economy and strongest military (with thousands of nukes), why are we still arresting young men and women—especially young African-Americans and Latinos—for doing what these men did? Why do countless people languish behind bars for nonviolent drug crimes? And why is pot still classified as a dangerous drug?
---
See full article in the Nation at Newstand or follow this link
Washington, DC:  United States Deputy Attorney General James Cole reaffirmed that the Justice Department is unlikely to challenge statewide marijuana legalization efforts, provided that these efforts impose "robust regulations" which discourage sales to minors and seek to prevent the diversion of cannabis to states that have not yet legalized its use.
 "We will not ... seek to preempt state ballot initiatives," Cole told members of the US Senate Judiciary Committee on Tuesday, adding that state "decriminalization [laws] can co-exist with federal [drug] laws."
 In an August 29 Department of Justice memorandum, Deputy Attorney General Cole had previously directed the US Attorneys in all 50 states not to interfere with the implementation of state marijuana regulations, unless such activities specifically undermined eight explicit federal law enforcement priorities.
 In response to a question from Sen. Sheldon Whitehouse (D-RI), Cole also stated that federal prosecutors should utilize similar discretion and not interfere with the activities of state-compliant cannabis dispensaries, as long as their actions "are not violating any of the eight federal enforcement priorities" outlined in the agency's August 29th memo. Rhode Island is one of six states, as well as Washington, DC, that presently licenses the production and distribution of medical cannabis. Six additional states are expected to enact similar licensing regulations in the coming months.
 Several Senators and witnesses questioned whether the Justice Department would consider amending federal financial regulations that presently inhibit state-compliant cannabis businesses from taking standardized tax deductions and partnering with conventional financial institutions. Deputy Attorney General Cole responded that such proposed changes in law were arguably the responsibility of Congressional lawmakers, not the Justice Department.
 Commenting on the hearing, NORML Communications Director Erik Altieri said, "For the first time in modern history, members of the US Congress and the Justice Department were not discussing furthering cannabis prohibition, but instead were testifying to the merits of cannabis legalization and regulation."
 The hearings marked the first time that members of Congress have explicitly weighed in on the conflict between state and federal marijuana laws since voters in Colorado and Washington elected to legalize the retail production and sale of the plant this past November. The hearing was called for by Senate Judiciary Chairman Patrick Leahy (D-VT), who acknowledged that the federal government "must have a smarter approach to marijuana policy." Witnesses at Tuesday's hearing also included King County, Washington Sheriff John Urquhart – a vocal supporter of the state's new legalization law – and Jack Finlaw, Chief Legal Council for the Colorado Governor's Office.